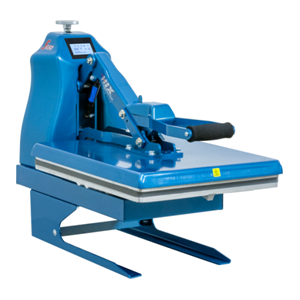 Get the coverage your designs need with the HIX S-650 auto-open clamshell heat press. This outstanding press opens automatically without the need of an air compressor. It's the perfect press for high traffic, high volume, and increased productivity.
The S-650 utilizes an electronically activated mechanical latch release mechanism with a gas shock assist to help enhance and support your operations. This helps to reduce fatigue and increase productivity. Direct-To-Garment applications are also a large driving force in the success of the auto-open feature, allowing you the freedom of loading your printer while the last print is curing, eliminating any risk of scorching or compromising transfer quality due to overheating.
The S-650 has a 16″ x 20″ heat platen that can apply all types of transfers on items up to 1/2″ thick. The floating lower platen helps provide even pressure on thicker items, no matter where it's applied. HIX presses provide completely even pressure from edge to edge, even at high temps.
The easy-to-use open and close handle has spring assist and a full range pressure adjustment. It provides even pressure on thicker items and adds 20% more pressure than straight handle designs.
Quality-driven at every point, the HIX S-650 is built to be durable for years of reliable service. Every heat casting at HIX is manufactured in a permanent steel cavity mold using the HIX exclusive aluminum alloy for maximum heat transfer.
The S-650 features a touch-screen controller with digital timer, adjustable up to 999 seconds, shows a time countdown on readout, beeps after elapsed time, and resets when the handle is raised. The calibrated digital temperature control is adjustable up to 450°F (232°C) and displays the current temperature.
The S-650 sets the standard in the auto release heat press industry because of its ruggedness, quality construction, and years of trouble-free performance. If you're looking for high production capabilities, this is the heat press you need!
The S-650 now comes with a free Splitter Stand (as pictured above), allowing for the operators to "dress" the shirt easily over the lower platen, keeping the back of the shirt positioned underneath the machine and away from the heat and compression.
This is handy when trying to avoid double-compression and heating of a previously applied transfer on the same shirt. In case of sublimation ink, it will also avoid all ink migration to the back side of the shirt.
-100% Made in the USA – HIX has its own 110,000 sqft manufacturing facility with its very own fully integrated aluminum foundry, CNC mill operation, welding, metal forming, wiring, fabrication, assembly, and packaging departments.
-A one-year general warranty and lifetime warranty on the heater element.
Dimensions: W 21″ x H 23″ x D 33″
Heat Platen Size: 16″ x 20″ (41 x 51 cm)
Weight Shipping: 95 lbs. (43 kg)