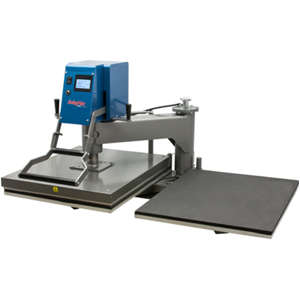 Now you have ability to produce large garments, and do it quickly! With the SwingMan 25 Twin you are ready to handle any job and deadline.
The SwingMan 25 Twin is the same as the SwingMan 20 Twin, except that it has a larger heat platen and two lower platens, each measuring 20″ x 25″.
The SwingMan 25 Twin is the top-of-the-line machine when it comes to mass production at high quality levels. This unit can handle anything – large or small garments, multiple ceramic tiles, and many other substrates. This is especially true for ceramic tile decorating using inkjet sublimation. Because of the long dwell times (9-12 minutes, depending upon size and quantity), a dual station heat press eliminates downtime.
While one side is under pressure, the other side can cool a bit, and then be unloaded and reloaded. In an 8-hour day, this can save as much as 90 minutes. Now you can even press a complete 18″x24″ ceramic tile mural in one pressing – saving you time and money.
The SwingMan 25 Twin does twice the work with half the space as a regular swing-away press. One operator can press a job and set another in place. This helps you minimize downtime and keep up with demand, all with one heat press. Plus, with our exclusive progressive linkage system, you can apply up to 1200 lbs. of pressure with very little effort. This lowers operator fatigue and increases productivity.
The increased size of the platen now opens up more opportunities for cut-and-sew manufacturers, signage, and sublimation applications that cover a multitude of substrates. Not only can you press larger items, but the increased size also allows you to press multiple smaller items at one time – perfect for increased production! Uneven pressure is also eliminated with the self-leveling design of the lower platens.
Dimensions: W 53″ x H 33″ x D 42″
Platen Size: Two 20″ x 25″ (51 x 64 cm)
Weight Shipping: 355 lbs (158 kg)