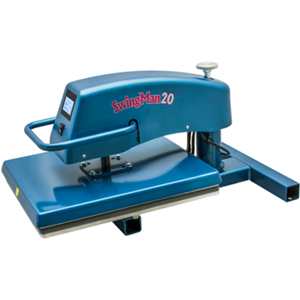 This heat press is for professionals who are serious about maximum production, high-quality impressions, safety, and minimal effort on the operator. The HIX SwingMan 20 sets the industry standard in heat press design for sublimation and textile heat transfer production. This will provide incredible advantages to the operator – reducing fatigue and increasing productivity. The Swingman 20 features a large 16″x 20″ surface area heat platen with our exclusive swing-away design and lifetime warranty on the heating element.
What makes the HIX Swingman 20 stand out from all others is the ability to apply over 1200 lbs of downward force with very little effort. Our exclusive progressive linkage method provides a mechanical advantage where a small amount of force on the hand end produces a much larger force on the press end. With the Swingman 20 at maximum pressure, you can literally open and close the press with two fingers!
If you are a pro shop with hundreds of pressings to do in one day, you will recognize the advantages this press offers. Using about one-tenth the energy as you normally would with a regular press, you will appreciate the reduced effort on your arms and shoulders.
Additional features include: integrated touch-screen controller including a digital timer reading in minutes and seconds, digital temperature settings that range up to 450º F, and full-range repeatable pressure adjustments for items up to 1-3/4″ thick.
The SwingMan 20 is perfect for pressing ceramic tiles, puff transfers, license plates, hot split transfers, glass cutting boards, rhinestones, mouse pads, garments, plaques, and nail heads. This full-sized swing-away press is a must-have for any serious sublimation shop.
Dimensions: W 34″ x H 20″ x D 22″
Platen Size: 16″ x 20″ (40.6 x 50.8 cm)
Weight Shipping: 121 lbs (55 kg)