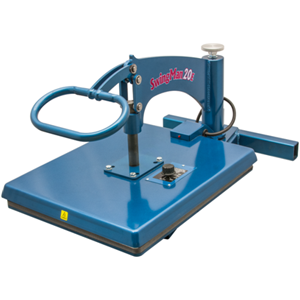 The HIX SwingMan 20E will go to work for you. Like your most trusted employee, this machine is designed to provide high performance with a long lifespan. The SwingMan 20E is the best in its class for a 16″ x 20″ platen surface and is the number 1 choice for most start-up businesses. With unlimited application options ranging from youth sizes to extra large garments, transfer applications are virtually unlimited.
The SwingMan 20E is one of the most reliable swing-away heat transfer presses on the market. Engineered with a sturdy steel design and the ability to apply all types of transfers onto items up to 1-3/4 " thick, you cannot find a better, more reliable press at this price level, especially in the sublimation category.
At the heart of the SwingMan 20E is a lifetime guaranteed cast-in heating element with a swing-away design. The swing-away design keeps the hot surfaces away from your hands and arms. It also features an easy adjustable pressure control, full range temperature settings from off to 400°F, a heat indicator light, and a separate handheld digital timer.
Like all HIX production heat presses, the SwingMan has a one-year warranty on components, a lifetime warranty on the heating element, and is ETL Certified for electrical safety. It weighs just slightly over 100 lbs net and retails just under $1000. This is the lowest priced 16 x 20″ swing-away model in the market.
Now you have the ability to expand your business by providing transfers to license plates, garments, mouse pads, glass cutting boards, plaques, ceramic tiles, and more! This machine is everything you need to be at the top of the heat transfer and sublimation business.
Dimensions: W 22″ x H 20″ x D 34″
Heat Platen Size: 16″ x 20″
Weight Shipping: 113 lbs. (51kg)